Foto Hotel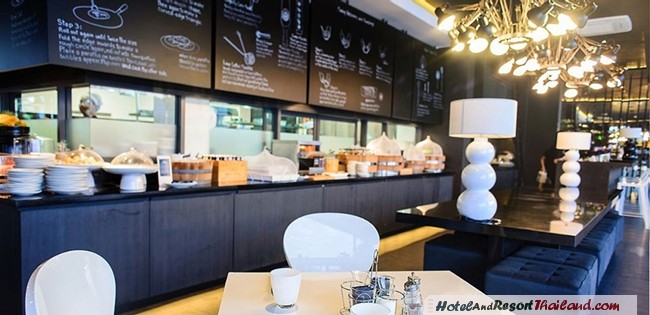 TIFFIN MAMA RESTAURANT
The trendy Tiffin Mama is situated alongside the Silhouette Pool and Playground and is open all day serving breakfast, light bites and dinner. The adult-friendly serving hours for breakfast run until 1pm, ideal for sleepy heads that like to take it easy.
The breakfast is a mix of a la carte and buffet with a choice of local Phuket or western style fare. The Silhouette menu offers tasty quick meals followed by the combined lunch and dinner menu with a choice of international and Thai cuisine.
Dine in the cool air-conditioned interiors with eye catching Phuket inspired décor, or sit poolside at the tables, daybed or loungers and gaze at the awesome views. Groups or small parties can utilise the spacious VIP room for a more private and personal dining experience and guests can hang out at the Great Shot Bar overlooking the pool.
Opening hours:
• Breakfast 06.30 - 13.00 hrs
• Silhouette menu 11.30 - 14.00 hrs
• Lunch and dinner 14.00 - 22.00 hrs
• Great Shot Bar 9.00- 23.00 hrs
BOKEH SPA
Step through the enchanting tropical gardens to the Bokeh Spa, a place of solitude and serenity surrounded by nature. The pure white interiors will lift the spirits and prepare you for a soothing treatment by the hands of trained therapists.
Equipped with twin treatment beds the Bokeh Spa is the perfect escape for singles and couples who can soak in the Jacuzzi tub and be pampered with one of many rejuvenating massages, treatments or packages from the spa menu. The spa has a unique glow in the evening as special lighting illuminates the treatment rooms for added pleasure.

• Opening hours 11.00– 20.00 hrs




.
Silhouette Pool
Swim above the treetops with spectacular views of the Andaman Sea from the luxurious marble swimming pool in the sky. The 20x7 metre pool with Jacuzzi is the stunning centre piece of the rooftop and is lined with stylish cabanas and daybeds.

.
Silhouette Playground
The playground is a huge rooftop relaxation zone with comfy daybeds and bean bags where groups can hang out and socialise and cosy couples can find a quiet spot to enjoy the chic surroundings and fabulous views.
Watch the sunset, star gaze and admire the view which stretches over the three beaches of Kata Noi, Kata and Karon and enjoy tasty refreshments and drinks from Tiffin Mama and the Great Shot Bar.
Photographer Service
"Just Strike A Pose" Make your special trip COMPLETED! Have your own photographer while staying with us. We will guide you how to pose until you get the best shot! For more information or make a reservation please contact 076 680 900



.
Memories Hall
Your foto Hotel experience begins in the Memories Hall with a warm greeting and friendly smile. Recline on the plush sofas and gaze at the picture frames, analogue cameras and the cuddly Foto Bear, all signature features of the hotel. Technology is available at your fingertips with an Internet corner and complimentary Wi-Fi throughout the hotel.

.

Process Room
The softly lit process room is for guests that arrive early for check-in or have time to kill before their onward journey begins and need to rest in comfort. The tranquil room has reclining chairs, an iPad for entertainment, cold drinks and snacks plus a shower and changing rooms.

Speed Gym
The air-conditioned fitness room is equipped with a range of aerobic machines and free weights for a full work out. Drinks and towels are provided.
• Opening hours : 07.00 - 19.00hrs

Shuttle Service
Beach lovers are walking distance away from Kata and Kata Noi Beaches, but to make life easy we provide a regular shuttle service throughout the day to Kata Beach which takes just five minutes.
Hotel to Kata Beach :
• 10:00 am
• 04:00 pm
• 07:00 pm
Other Services
• Internet Corner
• Tours Desk
• Kodak Printer
• Gift Shop
• Exhibit Hall
• Great Shot Bar
• Airport Transfer Service
• Room Service
• Free Wifi




.